March, 2013
March 30th, 2013
Posted in NEWS
"Scares That Care!" is proud to announce that we will be hosting a three day Horror and Sci-Fi Model Kit Competition! The competition will run all three days of the convention, and prizes will be awarded! We are proud to partner with Lister Moddel Works, who is a co-sponsor of this event! We look forward to the awesome kits that will be submitted to this show!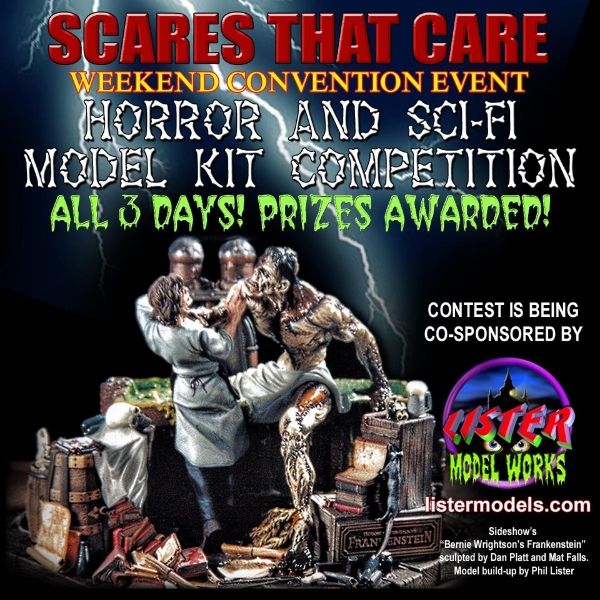 March 24th, 2013
Posted in NEWS
Please share with all horror fans!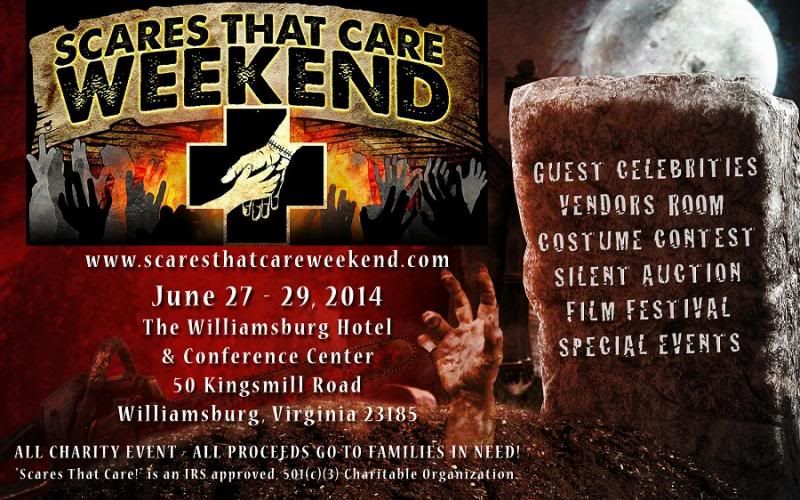 March 23rd, 2013
Posted in NEWS
Folks, in order to provide the best possible convention/convention experience that we can muster – awhile back I formulated a group of people that routinely attend conventions – from horror, to sci-fi, to pop-culture and so on. This "Scares That Care! Weekend Fan Advisory Group" has but one purpose…for us to communicate our thoughts and ideas to them, and for them to relay back to us their thoughts and ideas on how we can make the "Scares That Care! Weekend Convention" a better experience for all those who attend.
This is a secret group, and unfortunately – this group is full. I only mention it's existence to you now, so that you know that we DO have fan input into this show. Rest assured we have a wide and diverse demographic, so that we can hear unbiased opinion and suggestions on how we can try to make "Scares That Care Weekend!" the best possible show that we can put on!
March 10th, 2013
Posted in NEWS
Legal regulations state that donors may only claim a charitable contribution as an income tax deduction when there is nothing of value received in return. When there is some kind of thank you gift or event, the tax deductible amount is that which is left after taking into consideration the value of the gift or event.
First we must determine what the IRS calls the "fair market value" of the event itself. There are several methods for calculating this. One of the most frequently used is comparison.
Consider what would the cost would be for a similar event if it were not a fundraiser. For example, if a person were to purchase a similar ticket at a convention of similar status, what would be an average price that they would pay? For example, a semi-formal dinner may have a fair market value of $20 on a $50 ticket. In this case the tax deductible portion is $30.
By using this comparison method, we are in essence taking into consideration the expenses of the event, but also putting those expenses in perspective.
The keyword to remember when deciding on the fair market value is "reasonable." Here's how it works; Would it be reasonable to expect a meal that included a salad, vegetable, steak, and gourmet dessert to cost $5 if purchased at a restaurant? Probably not.
But an organization that was holding such a meal could could get a menu or price list from a restaurant in their area that would provide a similar dining experience and decide on the fair market amount by using this comparison. This is what we have done by comparing our ticket prices to other shows.
The key point is that we as an organization are making a fair judgment in an ethical manner and not trying to over inflate the tax deductible amount for our tickets. We have decided that our group has based our ticket prices within a spirit of honesty and common sense.
In simplest terms – your ticket purchase probably will not qualify as a tax deduction, as our ticket prices are similar in comparison to other shows. We could inflate our ticket prices to give folks a tax deduction, but we feel it prudent to just be honest and up front. As always, please check with your accountant or tax person.