May, 2014
May 27th, 2014
Posted in NEWS
Okay, folks – in order to have a safe and fun environment in which we can all have a good time; I realize that many characters in the films we love carry weapons – after all, what good would a horror film be without a nice oiled chainsaw? At this point we are making it a rule that no weapons will be openly carried around the convention. This includes knives, swords, clubs, guns and so forth. Plastic or wooden replicas are permitted, as are plastic guns if needed for a costume.
Please note – If you are getting something signed, the item must be put into it's sheath or box once the ink is dry, and either put into your vehicle or taken back into your room after the signature is obtained.
We will have vendors selling these items as well, and they will also be reminding you that you have to take your purchase back to your room or vehicle immediately.
Our staff and off-duty police reserve the right to ask to examine anything that may potentially be deemed as a weapon for examination. We will do so respectfully, so please keep in mind that we want you to have a good time – and we just want to keep everyone safe and avoid any potential accidents.
Thanks for understanding!
May 27th, 2014
Posted in NEWS
Just a brief update, folks – Although she will be signing all three days, Cassandra Peterson's signing times will be from noon until five on Saturday. (Since the celeb room is open from 10:00 a.m. until 7:00 p.m., it's just shaving a little time off). Please plan accordingly. We just want to give you as much info as possible. Again – She WILL BE SIGNING ALL THREE DAYS!
May 27th, 2014
Posted in NEWS
Hey folks – we just got the word that Adrienne King has to cancel due to her project "Tales of Poe." We hope to have Adrienne back at a future show – And we are working on a replacement!

May 16th, 2014
Posted in NEWS
Available for raffle only at the "Scares That Care!" Weekend Convention – www.scaresthatcareweekend.com – Will be this life size bust of "The Bride of Frankenstein!" She's just waiting on her eyelashes…and your attendance at the show! Donated by Blackheart Models and painted by Russ Wrangler!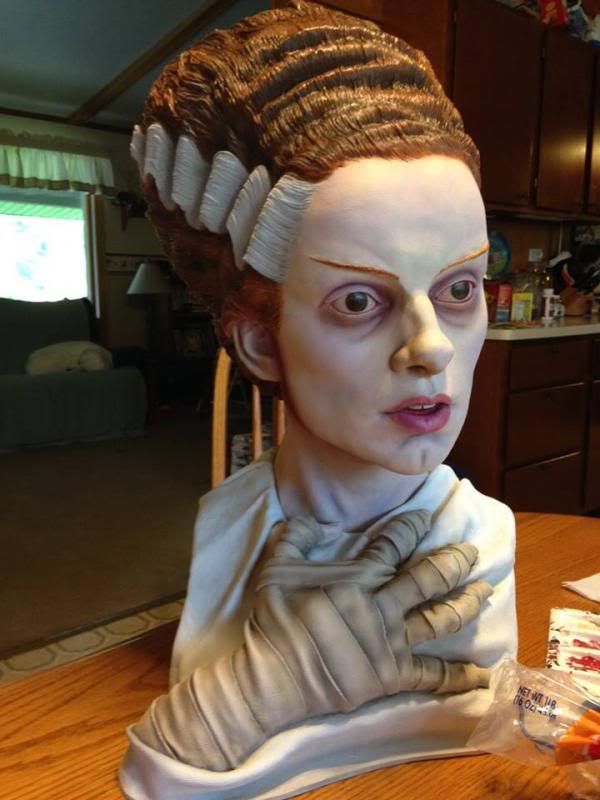 May 12th, 2014
Posted in NEWS
GUEST UPDATE NOTIFICATION – Due to other obligations, Ms. Alexandra Paul will ONLY BE SIGNING ON FRIDAY AND SATURDAY. Ms. Paul needs to leave early on Sunday. Once again – FRIDAY AND SATURDAY SIGNING ONLY!
May 6th, 2014
Posted in NEWS
**PARKING** Hey Folks – We are starting to get questions about parking, so I want to let everyone know where our thought process is at this point. In the photo below, you can see an overhead view of the hotel, circled in orange. There is a corporate employee parking lot (Labeled in "A" on the photo), that we are trying to ascertain if we can use – but this is not a definite. Please be sure to follow all rules and regulations with parking – as we cannot be held responsible for tickets or cars being towed!